As children, you probably shrugged off your parents' warnings about wearing a helmet while you rode off on your bicycle. However, your parents' argument had good merit. It's always a good idea to protect your noggin. If you've graduated to something a bit more thrilling, like mountain biking, it's absolutely imperative.
Mountain trails are filled with a slew of obstacles trying to cause you some pain. The right helmet will ensure that those falls and bumps don't have any lasting implications.
Protect your Head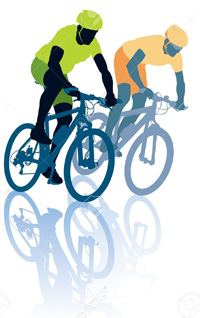 When it comes to mountain biking, your entire body is susceptible to damage. While you can do your best to avoid hurdles as you race down the mountain, accidents can happen. Scrapes and bruises are to be expected, but your head is something you should never put at risk. Failing to protect your head could lead to severe brain injuries that follow you throughout your life.
Luckily, great helmets are available that are specifically designed with mountain trails in mind. They provide your head with the protection it needs along with a number of other great benefits. Mountain bike helmets are made to be safe and comfortable, allowing you to focus on the trail in front of you.
Here are some of the best mountain bike helmets available today.
7 Top Rated Mountain Bike Helmets
1. POC Trabec Bike Helmet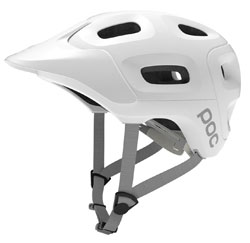 The POC Trabec helmet is a great option for mountain bikers due to its aerodynamic design and protection. The outer shell is made from durable polycarbonate. Inside, the helmet has EPS foam for maximum comfort and aramid filaments for added durability.
The helmet has an adjustment system that uses buttons to tighten the straps. There's significantly more coverage around the temples and back of the head, where you are more susceptible to head trauma.
There's also an extended visor to shield your eyes from the sun, ultimately improving your vision to keep you safe.
2. Bell Super 2 Helmet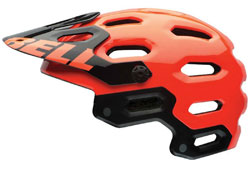 The Super 2 helmet from Bell is incredibly durable and versatile. It provides maximum protection around the head, with special attention being taken to ensure that the back of the dome is protected.
The shell is made from in-mold polycarbonate. It's very light in weight to ensure that the helmet doesn't become cumbersome, but also provides all the protection you need.
If you are looking for even more protection, the Bell Super 2R is available, which is essentially the same as the Super 2, but includes a chin piece to protect your face. Inside the helmet is removable padding to make your ride comfortable.